Austral and Boral House Bricks Sydney
Bricks Sydney
At Anthrock we have one of the best selections of clay bricks Sydney side. Clay bricks are an extremely affordable option that require little to no maintenance and will retain their aesthetic appeal even in harsher environments.
Clay bricks are the common bricks you see used in many buildings and come in wide variety of colours and textures. Designed to be load bearing these bricks are placed then reinforced with cement to ensure a long standing, durable wall.
We stock clay bricks from a range of brands including Austral, PGH, Boral and more so when shopping for clay bricks in Sydney our showroom will have all the styles and designs you could need for you job. With our offer of trade prices direct to the public you'll save even more when shopping at Anthrock so contact us for a quote tailored to your specific needs.
Brick Cleaning
The appearance of a brick building can be permanently spoilt by bad cleaning techniques or by the use of the wrong cleaning agent. For this reason, it is important to ensure that the correct cleaning methods are utilised for the best results and to help reduce the associated problems with brick cleaning. It is important to remember, that the services of a professional cleaner should be sought if a stain is too large or too difficult to remove.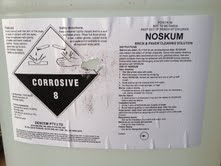 It is good practice to test the method on a small inconspicuous area, to determine the effectiveness of the cleaning compound and the technique, and to check the wall for possible damage. Contact us for all your brick cleaning requirements, including the legendary NOSKUM which will help remove insoluble white deposits from brickwork.
The link below is an excellent reference guide for brick cleaning and maintainance.